In today's modern kitchens, luxury pantry storage solutions are ones that expand the capacity of the available space while making the kitchen look like an elegant living area instead of a "cooking lab". It means having quick access to everything you need, making it easy to keep the kitchen organized at all times. Here are our must-have's when it comes to pantry storage solutions.
"Wing" Pantry Storage with Pocket Doors
The first key to creating a clean and uncluttered aesthetic for your kitchen lies in designing hidden storage and workstations within the pantry. MandiCasa's tall Wing cabinet features pocket doors that disappear and stay out of the way when the unit is in use.
Inside, the module offers extra counter space especially suited for countertop appliances used on a daily bases. The unit can be customized with shelves, drawers, rollout storage trays, and even an accessorized wall. The interior can be designed to match the finishes throughout the rest of the kitchen.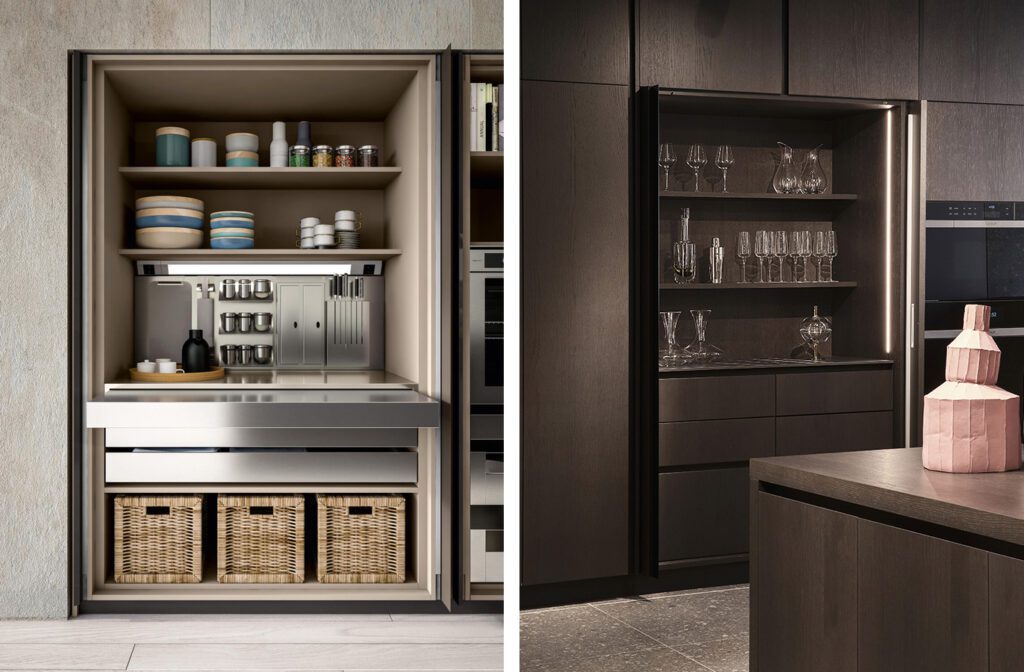 Full Extraction Pantry Storage
Efficiently designed pantry storage helps you utilize every inch of cabinet space. In MandiCasa's luxury pantries, columns and baskets with full extraction mechanisms deliver that maximum storage capacity while keeping all items easily accessible.
The baskets come in an elegant but sturdy design to prevent objects from falling and can also be fitted on the interior of the cabinet doors, giving you double the storage. The distance between the baskets can be customized based on storage needs.
Kitchen Corner Maximization
Not just lazy susans. A full extraction system gives you full use of the corners of your MandiCasa kitchens by allowing two sets of deep and large baskets to fold in and out of the cabinets with ease. Here too, the design of the baskets keep items secure while the track is in motion.
Pantry Cabinets in Framed Smoked Glass
Today's luxury kitchens include a mix of decorative and functional cabinets. The latter keep the clutter behind solid doors and the kitchenware tucked away but within easy reach. The display cabinets allow you to show off your finest objects and glassware. For the design of the pantry wall, units with doors in metal framed smoked glass are a sophisticated solution for this purpose.
LED strips can be fitted on the back of the shelves or the sides of the cabinets, providing at once functional and ambient lighting.
These types of cabinets also make for an excellent bar area integrated within the pantry; an ideal solution for kitchens designed for entertaining guests.
Open Pantry Storage with Back Lighting
Open storage solutions can break the monotony of a wall of tall pantry cabinets, making the kitchen design more dynamic. Perfect to this end are backlit columns with open shelves. MandiCasa's Solaris system for the back of these units features high-efficiency LEDs lighting up a micro-laser engraved Plexiglass panel to guarantee an even distribution of light.
Drawer Organization and Dishware Storage
Our base cabinets can reach 48 inches in width and feature multiple rollout drawers organized the way you want. This is thanks to three different drawer accessory lines distinguished by their range of finishes: Elite (stainless steel base with wood dividers), Fit (wood base with metal dividers), and Easy (solid oak wood, dark or light).
The deep baskets can also be accessorized for a smart optimization of dry goods, pots, pans, and plates that need to be stored underneath the cooking area.
To keep items firmly in place, we offer magnetic wood pegs on stainless steel bases that can be adjusted much more easily and quickly than pegs that need to fit in holes. Adjustable plate holders feature handles to move the stack effortlessly onto the counter and back.
See more luxury kitchen storage solutions integrated in the MandiCasa cabinetry collection.