When it comes to designing luxury custom closets, it's important to consider three things: how to lay out every section to fit the client's requirements; how to make the most of the available space; and how to personalize the aesthetics while keeping the design elegant and timeless.
Working with a versatile closet system that includes a variety of modular options can open the door for truly customized solutions. Here are our top recommendations.
Luxury Corner Closet Modules
Corner modules are essential for large wardrobes but the design of the module makes a big difference in ensuring the corners are utilized fully. In the MandiCasa luxury closet collection, corners replace internal partitions with uprights. This patented solution maximizes storage and offers an unobstructed view of the contents of the module.
Carefully placed LEDs and bifold, total-opening doors make the corners even more accessible. Handles, dimensions, and interior accessories are customized down to every detail.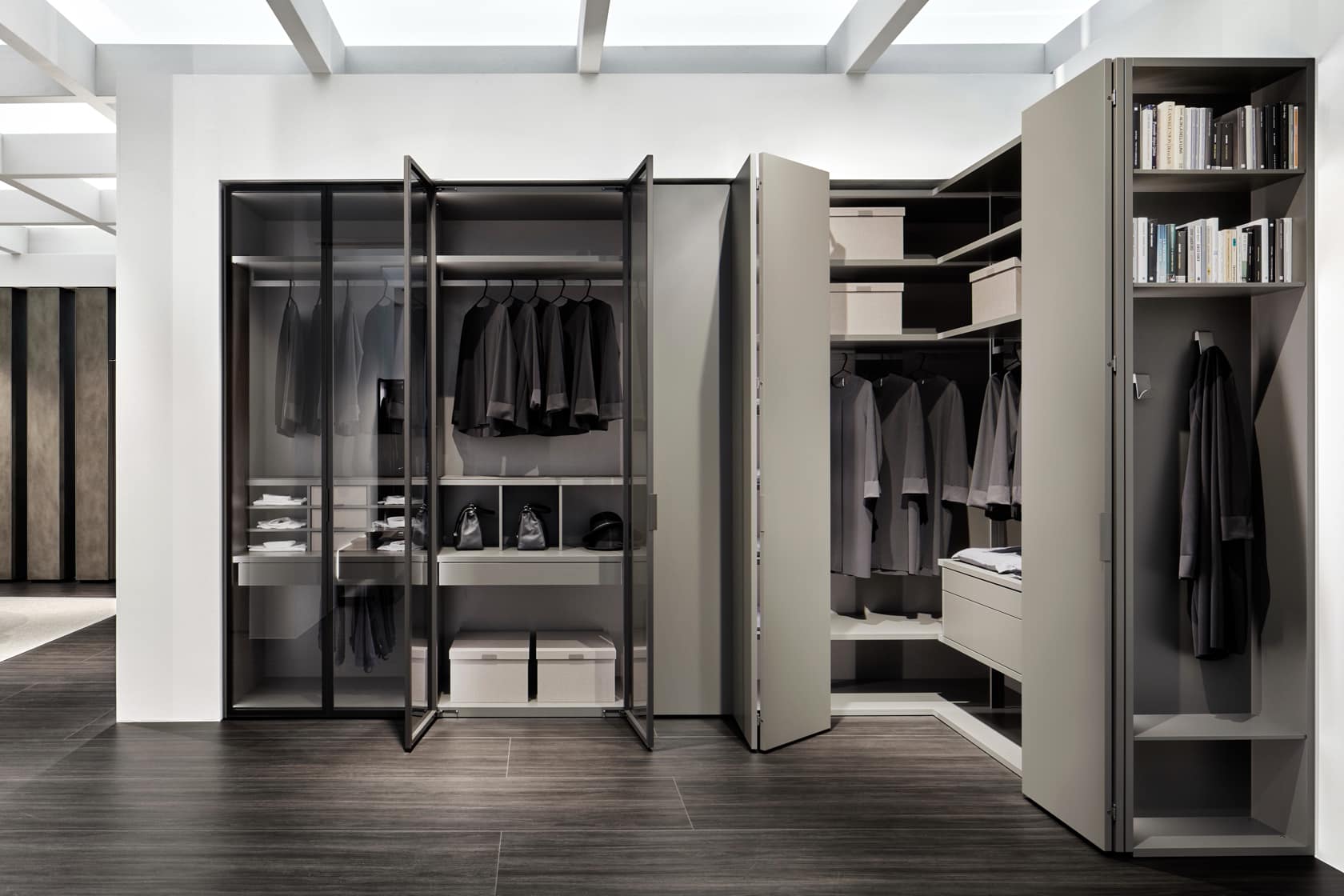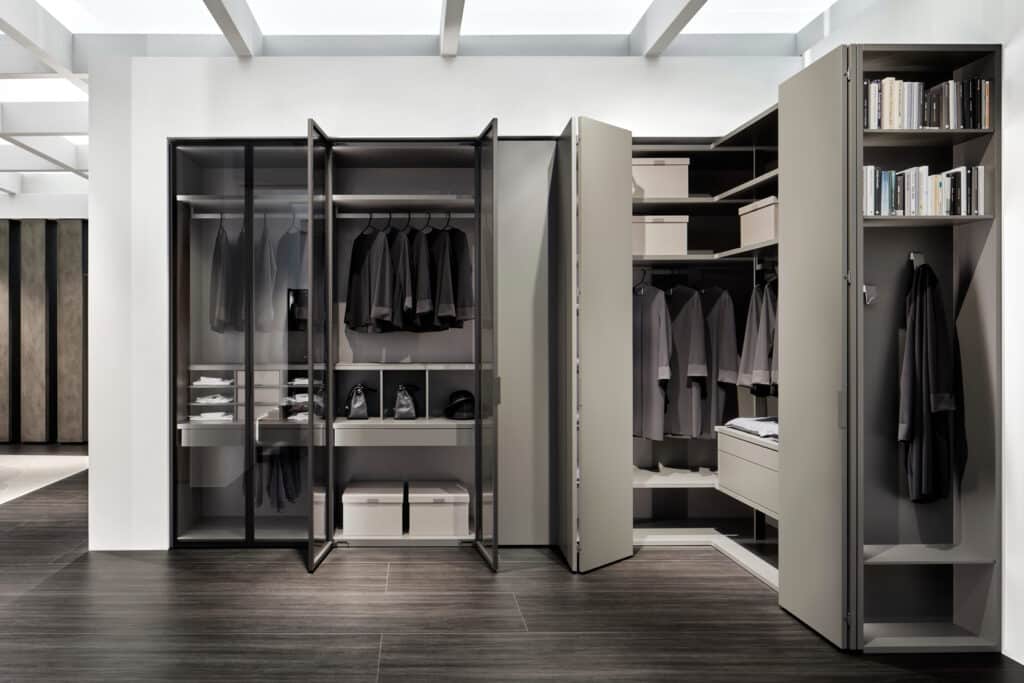 Closet Modules with Open Niches
In a luxury custom closet, open niches serve two purposes. They:
break up the monotony of the closed parts of the closet, making the design more dynamic;
provide dedicated areas for frequently used items, creating more opportunities for closet personalization.
The MandiCasa luxury closet collection offers different types of open niches, from simple openings that span the width of one or two doors to open shelves and dressing units with sitting bench, shelves, and coat hooks. Side flaps open to give full access to every inch of the section while hiding parts of the storage area when closed. LEDs awash the modules in light, combining functionality and ambiance.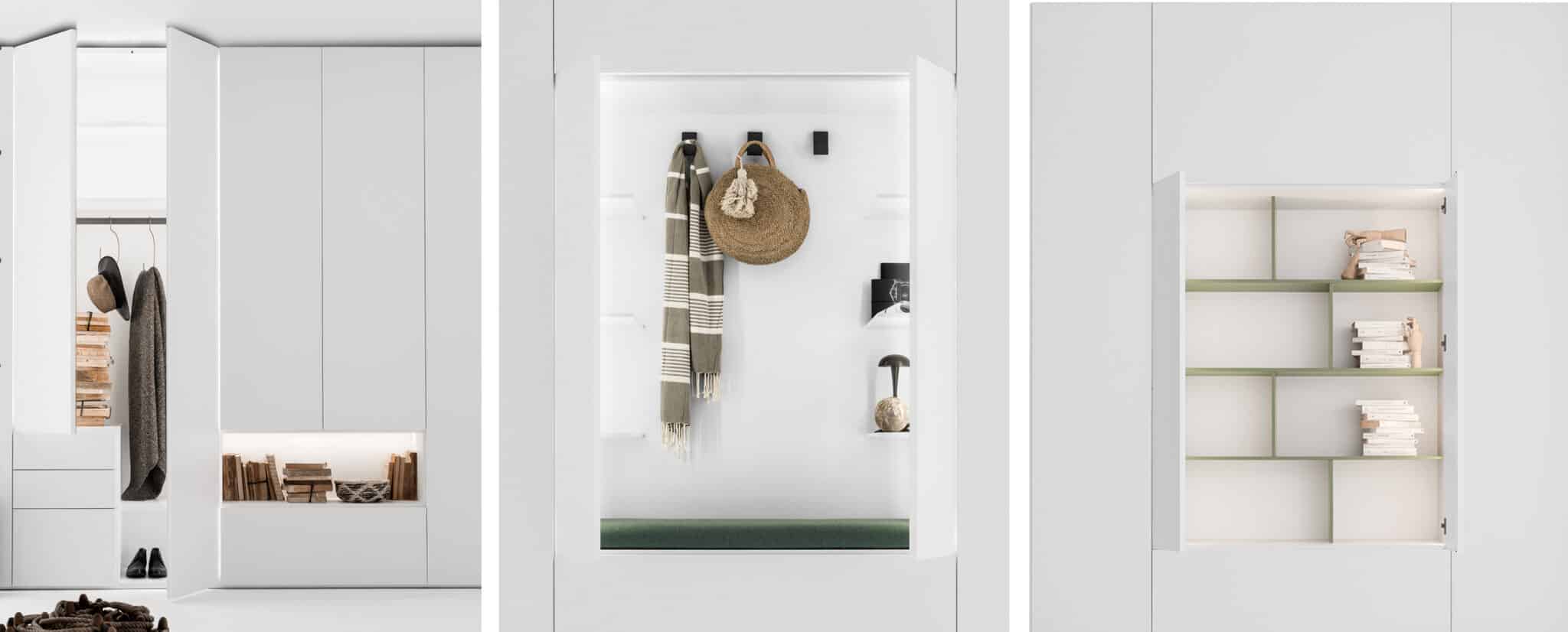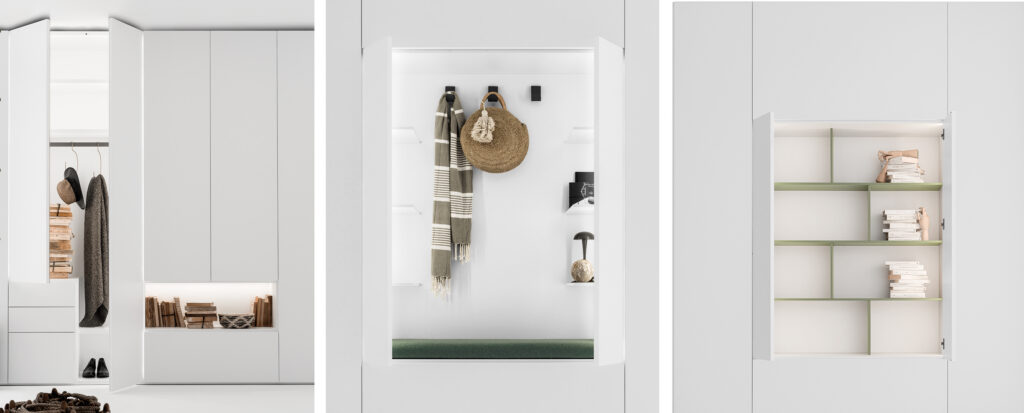 Mirror Modules
Mirror modules are another must-have in luxury closets. They, too, should be designed to make the most of the space. Our custom wardrobe designs can include open niches with a swiveling mirror that doubles as a series of small-item compartments on its back side. Side shelves provide extra storage which is conveniently hidden away behind swing-open panels.
End Modules For Luxury Custom Closets
End modules give new functionality to the sides of the closet, transforming them into an additional storage opportunity. Aesthetically, they can offer an element of surprise that completes the composition and customizes the design even more. The MandiCasa closet systems come with a choice of single-depth or depth-variation end modules. Configure them with coat hooks, open shelves, or a bench, based on your needs.
Depth-Change Closet Modules
Depth-change modules help design L-shaped points along the closet, all in the name of maximizing your storage space while customizing the composition in unexpected ways.
The shorter side of the module is ideal as an open bookcase with recessed remote-controlled back lighting that adds character to the space.
TV Modules 
TV modules turn luxury custom wardrobes into multifunctional spaces. In our module, the TV set is fixed to a panel that rotates 60⁰ to reveal an internal compartment with shelves. This area and the drawers below are ideal to store all multimedia items and keep them out of view, giving the closet a clean modern aesthetic.
The TV module integrates easily with all the other modules of the MandiCasa closet systems to allow you to design unique solutions, both functionally and aesthetically.
Closet Door Opening Systems
The last factor to consider when designing luxury custom closets is the type of doors you are going to use. Often the best option is a mix of different types of openings, such as swing and bifold doors.
For the latter, the MandiCasa collection features a patented total-opening system that reduces the opening radius, allowing the doors to fold in on themselves and take up minimal space. This makes them ideal for corner modules and often-accessed units where it is convenient to leave the doors open while utilizing the closet. Lacquered doors can alternate with mirror, extra clear, and smoke glass doors for different aesthetic effects.
Sliding doors in different finishes can be used for a last touch of personalization while closets with flush-closing sliding doors and recessed handles offer the most minimalist design of all.
See all of MandiCasa's luxury custom closet options, all made in Italy by Caccaro.